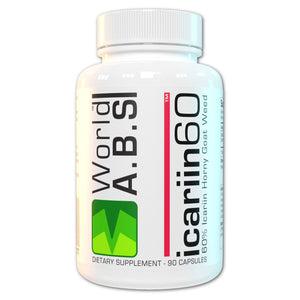 World A.B.S
icariin 60™ Horny Goat Weed
Sale price Price $70.00 Regular price $0.00
-shipping available to over 100 countries-
••••••
AS AT DECEMBER 4th 2023 OUR UK WAREHOUSE IS SOLD OUT • RESTOCK ARRIVING DECEMBER 9th 2023 • CUSTOMERS CAN PLACE A BACK-ORDER TODAY WHICH WILL BE DISPATCHED ON DECEMBER 11th 2023
ORDERS TO UNITED STATES, CANADA, & MEXICO ARE SHIPPING AS NORMAL • OUR U.S. WAREHOUSE IS STILL FULLY IN-STOCK
••••••
Overall rating ★ 4.8/5
based on 62 reviews
Since 2009 we have been specializing exclusively in icariin extract. We are now globally regarded as the premier shop to buy icariin supplements.
At the supreme 'standardized' strength of 60% icariin, the highly renowned icariin 60™ product from World A.B.S is the strongest and most effective Horny Goat Weed supplement available. Utilizing exclusive access to the award-winning extract from the very originators of pure 60% icariin Horny Goat Weed, together with the impeccable manufacturing standards of World A.B.S, has made this top-grade Horny Goat Weed supplement the #1 choice worldwide for naturally restoring sexual health and boosting athletic performance. (To view all the health benefits of World A.B.S icariin 60™ please click here)
Unique Product Quality
While virtually all other icariin/Horny Goat Weed products on the market are cultivated and extracted in China, a key attribute to the high quality of icariin 60™ is that the Horny Goat Weed (Epimedium) plant extract used to make the World A.B.S icariin 60™ product is sourced exclusively from the Mediterranean region of Europe, meaning that the Horny Goat Weed plants are cultivated and extracted to stringent European regulations of safety and quality. This standardized extract is then encapsulated in the United Kingdom to cGMP (Current Good Manufacturing Practice) standards using state-of-the-art 'icariinMAX—Optimum Delivery Capsules' designed in-house at World A.B.S specifically to maximize 'icariin flavonoid bioavailability' and attain the best possible results from this powerful 60% icariin Horny Goat Weed extract.
Inside Each Bottle
Each bottle contains 90 Capsules (1-Month / 30 Day Supply)
Serving Size: 3 Capsules
Servings Per Container: 30 (three capsules per day)
Amount Per Serving: 900mg of standardized pure 60% icariin Horny Goat Weed extract
Dosage Directions: For best results take 3 capsules daily. ***Further info on how to take World A.B.S icariin 60™ Horny Goat Weed capsules can be found here.
100% Free From: artificial colors, flavors, sweeteners, preservatives, milk, lactose, soy, gluten, wheat, yeast, fish & porcine.
Current Batch Expiry Date: FEBRUARY 2025
Our Superior Service
The best quality of pure standardized 60% icariin Horny Goat Weed extract available.
Orders are always shipped in discreet/nondescript postal-packaging.
Guaranteed vegetarian & vegan friendly product.
Multi-buy discounts applied to all bulk quantity purchases.
The best selling icariin supplement in the United States, United Kingdom, Canada, Australia & Europe.
100% secure checkout accepting both card & PayPal payments.
Orders dispatched within 24 to 48 hours (excluding weekends & public holidays).
Shipping available to over 100 countries around the world from our warehouses based in the United States & United Kingdom.